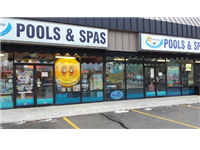 Owned and operated by Dave & Wendy Utz, we have more than 30 years experience in the swimming pool and spa industry.

Our retail store is located in Dayton, OH. We offer free water testing and analysis along with all the products you need for your pool or spa. We sell Garden Leisure Spas, South Pacific Spas, Summit Spas,and SPLASH SuperPool Above Ground Swimming Pools. We stock pool/spa chemicals (EZ Clor, Baquacil, EZ Pool, Sanygen, Leisure Time and More!) and supplies (Hayward Equipment, Rheem Heaters, Maintenance Supplies, Toys, Melissa and Doug Classic Toys, Aquatic Fitness and More!) year-round.

Our professional technicians can repair or replace faulty equipment such as pumps, filters, motors, heaters, pool cleaners, spa equipment, and more. We are proud to provide high quality service and repair that you can depend on. Let us do the work to keep your pool or spa running smoothly!